Souya (蒼弥, Sōya?) is a one-shot character from Jewelpet Magical Change. He was Larimar's one-day boyfriend.
Appearance
Souya is a tall boy with spiky, dark blue hair. He wears a short-sleeved blue jacket with a hood, an orange T-shirt and capri pants.
History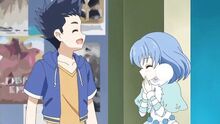 Larimar is having a filled day as an idol when she meets Souya, who was running away from several girls. He asks her on a date immediately to shake them off. At first she doesn't like him because of his pushiness but she comes around as the date goes on.
At sunset, they are riding a ferris wheel and the Jewelpets try to help by setting the mood, but they wind up causing an accident. Larimar uses her magic to save Souya, turning back to her Jewelpet form. When Souya regains conciousness, he doesn't realize that the Jewelpet is the girl he was dating and leaves, feeling melancholic.
However, in Episode 37, Souya learns that Larimar is the same blue-eyed fox he left. He is then conflicted and reluctant to speak to her because he is worried he would interfere with her dreams of being an idol. He is seen near the end of the episode at the back of the stadium of Larimar's CD debut concert.
In the end, he and Larimar have a touching ending.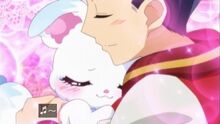 Ad blocker interference detected!
Wikia is a free-to-use site that makes money from advertising. We have a modified experience for viewers using ad blockers

Wikia is not accessible if you've made further modifications. Remove the custom ad blocker rule(s) and the page will load as expected.