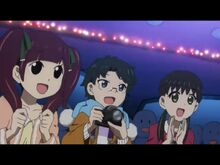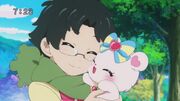 Ryoko Izumikawa (和泉川 涼子, Izumikawa Ryōko?) is a minor character in Jewelpet Happiness. She is the head of the newspaper club and the partner-friend of Rosa.
Appearance
Ryoko has short black hair and a pair of thin-rimmed glasses. She wears a thick and long green scarf when she is in her school uniform.
Personality
Being the chief of the newspaper club, she is hard-working and always tries her best to find the latest news and scoop.
History
Ryoko first appears in episode 8. She convinces the staff of the Jewelpet Cafe Happiness to hold elections to boost the Cafe's popularity, and also so she can obtain a scoop.