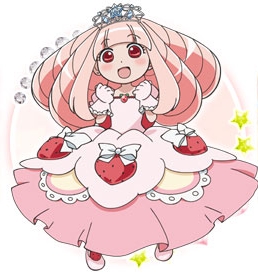 Princess Mana (マーナ姫, Māna Hime?) is a guest character in the Jewelpet franchise, who is the princess of Sweetsland. She is the main character of Jewelpet the Movie: Sweets Dance Princess, and is voiced by Mana Ashida. Her main attribute is that her crown allows her to collect and use magic. In the movie, she is turning seven and celebrating her birthday.
Gallery
Trivia
Mana's name and character is based on Mana Ashida, the child voice actress who voices her.
She is also good at cutting. As seen in the movie, before everyone starts to eat Princess Mana cut the cake like she was fighting someone.
Ad blocker interference detected!
Wikia is a free-to-use site that makes money from advertising. We have a modified experience for viewers using ad blockers

Wikia is not accessible if you've made further modifications. Remove the custom ad blocker rule(s) and the page will load as expected.