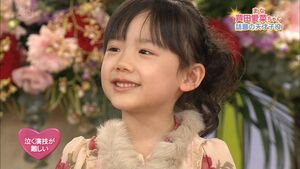 Mana Ashida (芦田 愛菜, Ashida Mana?) is a Japanese child singer and actress. She was born on June 23, 2004.
Career
Ashida rose to fame after starring in the television drama, Mother. Her singing debut came with the television drama, Marumo no Okite. She will be performing the theme song, "Friends Forever and Ever" for the film Jewelpet the Movie: Sweets Dance Princess, which she will star in as Princess Mana.
Ad blocker interference detected!
Wikia is a free-to-use site that makes money from advertising. We have a modified experience for viewers using ad blockers

Wikia is not accessible if you've made further modifications. Remove the custom ad blocker rule(s) and the page will load as expected.