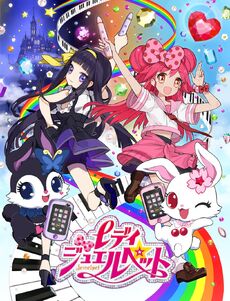 Lady Jewelpet (レディ ジュエルペット, Redi Juerupetto?) is the 6th anime series in the Jewelpet franchise. It was animated and co-produced by Zexcs and Studio Comet. The series was directed by Itsuro Kawasaki and written by Natsuko Takahashi. The original characters were designed by Aruko Wada and Jewelpet character designs were handled by Tomoko Miyakawa.
The series aired from April 4, 2014 to March 28, 2015, at 9:30 a.m. on TV-TOKYO and its affiliates.[1]
Plot
Momona is a regular middle-school girl who adores her cousin. One day, while attending to her cousin's wedding ceremony, Momona encounters a cute bunny named Ruby. Just then, she finds herself transported to Jewelland where girls are being selected to become candidates into becoming the next queen of Jewelland. Ruby reveals to her that she has been selected to become the next Ladyjewel candidate to become the queen of Jewelland. So Momona had no choice but accept to become the candidate for the next queen.[1] The series follows the adventures of Momona and Ruby in a world of fashion and royalty where the two compete together to become the queen of Jewelland.
Characters
Humans
New Jewelpets
Luea (debut in episode 1)
Episodes
Main article: Lady Jewelpet/Episode List
International Broadcast
It premiered on Portugal's Canal Panda on July 1, 2016. Its initial timeslot is 11:00 PM.
In Hong Kong, it premiered on TVB Jade on September 27, 2016.
Trivia
Episode titles almost always have the word "lady" included.
This is, so far, the only season without title cards.
Being animated by ZEXCS, this is the first season to be animated mainly outside of Studio Comet, ending its 5-year run with the franchise after Jewelpet Happiness.
"Lady, go!" a frequent phrase in the series, is similar to the phrase from Smile Pretty Cure!. Coincidentally, the phrase is even used in the series' transformation sequences similarly with the Smile!'s sequences.
Gallery
Videos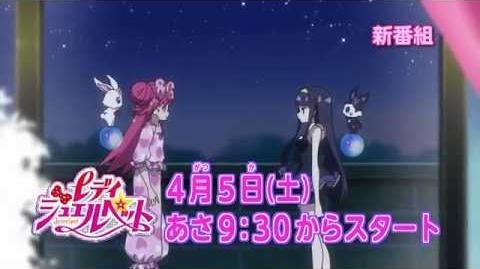 References
↑ 1.0 1.1 Jewelpet Magical Girl Anime Gets 6th TV Show in April. (2014 Feb 13). AnimeNewsNetwork. Retrieved March 23, 2014.
External Links
Credits
Staff
Director: Kawasaki Itsuro
Series organization: Takahashi Natsuko
Character draft: Wadao Ruko
Character design: Yahiro Yuuko, Nakanishi Aya
Pet design: Miyagawa Tomoko
General drawing director: Yatsu Miyako, Nakanishi Aya
Art director: Nishikura Tsutomu
Color design: Tsumori Yuuko
Director of photography: Kamata Katsuaki
CG director: Satou Jun'ya
Editing: Hiragi Daisuke
Sound director: Iwanami Yoshikazu
Music: Ichikawa Jun
Cast
Theme song