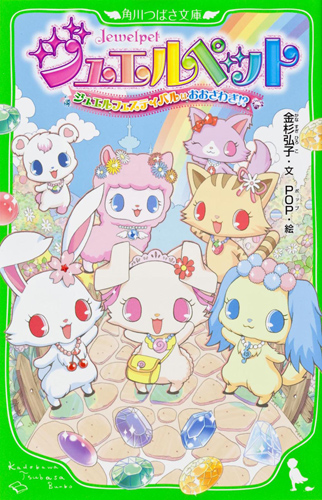 Jewelpet: The Fuss in the Jewel Festival!? is a light novel released in May 15, 2012. It was written by Hiroko Kanasugi and illustrated by POP.
Overview
Official Storybooks and Reference Books were also issued by Shogakukan during the series's release each year. Two manga spinoffs were also created, and each were published during the airing of the anime series. The first one was serialized in the Shōjo Magazine Pucchigumi with illustrations byMako Morie in 2009. The first series ended in the same year. On December 28, 2009, a second manga was then serialized in the Shōjo MagazineCiao with illustrations and story by Sayuri Tatsuyamaunder Sanrio and Sega Toys' permission.[10]
An official light novel titled Jewelpet: The Fuss in the Jewel Festival!? (ジュエルペット: ジュエルフェスティバルはおおさわぎ!? Juerupetto: Juerufesutibaru wa ōsawagi!??) was released as part of Kadokawa's Tsubasa Bunko Children's Light Novels on May 15, 2012, written by Hiroko Kanasugi and illustrated by POP. It introduces an exclusive character to the story, a Jewelpet named Lolip(ロリップ Rorippu?) and the story revolves around her experiences and bond with Ruby and her friends while setting up the Jewel Festival in Jewel Land.
An official guide book to commemorate the third series was also published byYousensha, titled Jewelpet Sunshine FANBOOK (ジュエルペット サンシャインFANBOOK Juerupetto Sanshain FANBOOK?). The book is part of the Otoma Anime Collection books and contains character profiles, a story outline, an introduction to the world of Jewelpet, a listing of songs used in the series and interviews from both the cast and staff members of the series. The book was published on June 2, 2012.
Ad blocker interference detected!
Wikia is a free-to-use site that makes money from advertising. We have a modified experience for viewers using ad blockers

Wikia is not accessible if you've made further modifications. Remove the custom ad blocker rule(s) and the page will load as expected.