Welcome to Jewel Pet wiki!
We currently have 456 pages. This is a site dedicated to the Jewel Pet franchise. Contributors are welcome!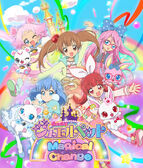 Jewelpet Magical Change
is an upcoming magical girl anime series based on the
Jewelpet
franchise. It is the 7th anime series overall. It is scheduled to premiere on April 14, 2015 at TV Tokyo and its affiliates at 9:30 AM.
For the first time in the franchise, Jewelpets are given the ability to transform between a Jewelpet and a human. The series will also introduce a new Jewelpet character named Larimer.



What's your favorite theme among the Jewelpet anime series?
Which Sweetspet is your favorite? (alphabetically sorted)


Create blog post
Refresh
http://hamhamparadise.tumblr.com/post/181956013210/paradise-hamsubs-plans-for-2019

What are your thoughts on this? Even though Sunshine is my least favorite series (you know why...), I'm happy that they're gonna sub the rest of the episodes while the other sub team kinda stopped at around 10 or 15 ep…

Read more >

http://hamhamparadise.tumblr.com/post/182032227368/jewelpet-movie

this tumblr user has announced they have subbed the movie.

Read more >

Just showing my own imagine for the relationships of the Jewelpets.

Sapphie Tour Granite

Diana Garnet Tour

Garnet

Sapphie Dian

Ruby Diana

Read more >
See more >