Io (イオ, Io?) is a male Holland Lop rabbit Jewelpet who symbolizes Refreshment.
Appearance
Io is a Holland Lop rabbit with long-furred, drooping ears and a short rabbit tail. He has purple Jewel Eyes made of cordierites. He wears a purple ribbon bowtie on his neck.
Personality
Io is loyal but sometimes he can be childish. He is also easy to get attracted by ladies, especially Opal. He sometimes ends his speech with the phrase "Dachi".
Skills
History
In Jewelpet (anime), Io is one of the Jewel Eight. Dian brainwashes him into using his inverted power to tire humans out. Rinko's group reclaims him through the Jewel Games.
In Jewelpet Kira Deco, Io joins Coal together with Opal, whom he proudly serves and has feelings on, to help Coal obtain the Deco Stones for the Decoranain.
He is in the background in the other seasons. 
Gallery
Trivia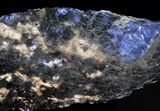 Io's jewel motif is the cordierite, called iolite in gemology. Cordierite is a type of magnesium iron aluminium cyclosilicate used as a catalytic converter.
References
Ad blocker interference detected!
Wikia is a free-to-use site that makes money from advertising. We have a modified experience for viewers using ad blockers

Wikia is not accessible if you've made further modifications. Remove the custom ad blocker rule(s) and the page will load as expected.