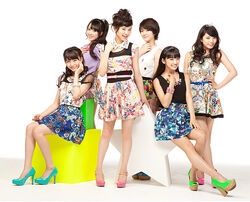 Fairies is a J-Pop idol group that sings some of the openings and endings for the Jewelpet series. They debuted since 2011 and are managed by Rising Productions.
Members
Rikako Inoue 

(井上 理香子

)

Sora Nomoto 

(野元 空

)

Momoka Ito 

(伊藤 萌々香)

Mahiro Hayashida 

(林田 真尋)

Miria Fujita 

(藤田 みりあ)

Miki Shimomura 

(下村 実生)
Discography
Albums
Fairies (March 26th, 2014)
Singles
More Kiss/Song for You (September 11, 2011)
Hero/Sweet Jewel (December 21, 2011)
Beat Generation/No More Distance (April 4, 2012)
Tweet Dream/Sparkle (July 25th, 2012)
White Angel (November 14th, 2012)
Hikari no Hate ni (July 24th, 2013)
RUN with U (February 19th, 2014)
Super Hero/Love Me, Love You More (May 28th, 2014)
M-Three
M-Three is a mini-group taken out of Fairies. It consists of Miki Shimomura, Miria Fujita, and Mahiro Hayashida. They sing the first opening song for Lady Jewelpet.
Ad blocker interference detected!
Wikia is a free-to-use site that makes money from advertising. We have a modified experience for viewers using ad blockers

Wikia is not accessible if you've made further modifications. Remove the custom ad blocker rule(s) and the page will load as expected.