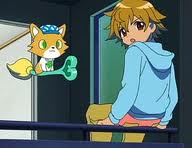 Akira Nanase is Nephrite's human partner and Rinko's neighbor. First appearing in Episode 16, Akira is Rinko's best friend from America, who suddenly migrated back to Japan and to live as her neighbor. He's part of a Basketball Team in New York City, USA and knows how to play it well through the rules. He also knows a lot of English, which he sometimes shows it off in front of Rinko. His father is a photographer and is often away on his photography business, leaving him in charge of the housework. No one knows about his mother as of now. Even though he brags sometimes, he has a secret crush on Rinko and hates Dian for how he influenced her. In Episode 52, he and Rinko were about to kiss in the end, but got interfered by Ruby and Nephrite.
Gallary
Ad blocker interference detected!
Wikia is a free-to-use site that makes money from advertising. We have a modified experience for viewers using ad blockers

Wikia is not accessible if you've made further modifications. Remove the custom ad blocker rule(s) and the page will load as expected.